Welcome to indyspurs.com!
We have a new home!
Beginning Saturday, September 28, Indy Spurs will be moving to Centerpoint Brewing! You might remember Centerpoint from such Spurs events as "Champions League Final" and "Spurs Beat Villa 3-1 to Start the Season". We're so excited for this new journey, and we can't wait to see everyone for ALL 7:30 am, midweek, and primetime matches!
We want to thank Chatham Tap for everything they have done for our club since 2013. Chatham is one of the best in Indy to watch football, but our membership has grown to the point where it is no longer feasible to share a pub anymore. We love you Chatham and we will check in for a pint from time to time!
Centerpoint Brewing
1125 E. Brookside Ave.
Indianapolis, IN 46202
Oh and by the way... Our brand new shirts will be available at the event! You can see them below in our Shop.
Indy Spurs Shop
To place an order please send payment via PayPal to https://www.paypal.me/IndySpurs or click the PayPal button below. Please include notes with your item, quantity, size (if applicable), and address for shipping purposes. Be sure to submit as "Family and Friends" to minimize transaction costs.
Shipping is a $10 flat rate for one shirt or scarf, $5 for each additional item. Shipping for stickers is $1.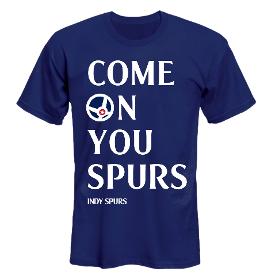 Indy Spurs Tri-blend Shirt
Short Sleeve ($20) or Long Sleeve ($22)
Available in XS, S, M, L, XL, & XXL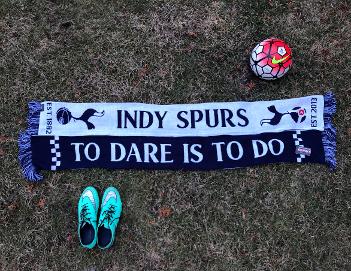 Indy Spurs Scarf ($20) [Ordered, in stock soon]
Mfg by Global Scarves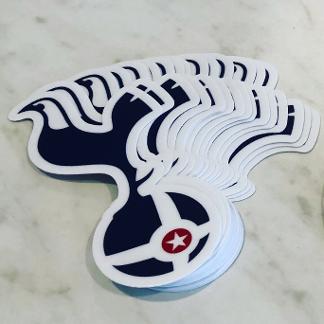 Indy Spurs 4" Vinyl Stickers ($2 each)
Please include $1 for shipping
More Gear coming soon!
Send us your thoughts on what we should include!
News and Notes
Feb 23, 2019
Scarves and decals are now sold out! We are working on ordering more scarves so please email indyspurs@gmail.com to be added to the waiting list. Thanks to everyone who purchased. Your contributions help us with future merchandise, giveaways, and maybe even a party! If you ordered a scarf and have not picked it up, you'll be able to at Chatham for the North London Derby on March 2. COYS!
Jan 23, 2019
SCARVES!!!! We've ordered new scarves!!!! CLICK HERE to have a look and let us know on the socials what you think!
Preorder yours now for $20 (or $23 and receive an Indy Spurs decal as well!)
Don't forget, Spurs at Chelsea in the 2nd leg of the League Cup Semifinal, Thursday at 2:45 pm. COME ON YOU SPURS!
Jan 17, 2019
Indy Spurs decals now available! CLICK HERE to have a look. Each one is 4" tall and come in Lilywhite or Spurs Blue! Email us to request yours now! It will look amazing on your bumper, water bottle, or laptop!
Jan 16, 2019
We might or might not be ordering some new swag. Stay tuned here, Facebook, and Instagram for updates! Send us an email to chime in with your ideas too!
Sept 2018
Indy Spurs shirts are now SOLD OUT! Thanks to everyone who purchased and renewed their membership! We will send out a survey to see what we are going to order next!
Apr 23, 2018
Shirts are in! Email us your size and quantity and we will bring it to Chatham (or coordinate meeting/shipping)! Shirts are $20 and will cover your 2018-2019 Indy Spurs membership
Become a Member
Tired of supporting soulless teams, full of badly behaved, over-paid cheese bags? You are Indy Spurs material! Our cheese bags win with panache, lose with style and are generally quite entertaining! Remember, you'll have a true friend in Spurs! Founded in 2013, we are the official Tottenham Hotspur Supporters Club in Indianapolis, Indiana. We meet in one of the TOP TEN SPORTS BARS IN THE USA! You'll sing, you'll laugh, you'll drink…what we do in life echos through the Tap.

Join us, won't you? There is no membership fee but we would gladly accept donations to support our club!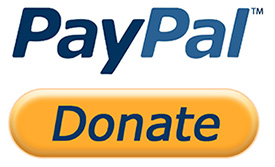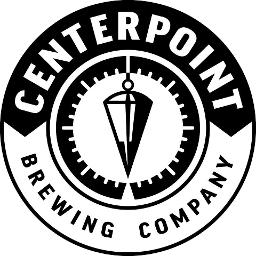 JOIN US FOR EVERY MATCH AT THE OFFICIAL PUB OF INDY SPURS, CENTERPOINT BREWING COMPANY!
1125 E. Brookside Ave.
Indianapolis, IN 46202
Tel: (317) 602-8386
Not in the Indianapolis area? Click HERE for an interactive map of all the THFC Supporters Clubs around the world!